The 12th ICPT 2021 was held from 14 to 15 July 2021 in Columbo, Sri Lanka. It was the first time the ICPT was held online due to the COVID-19 pandemic. The conference is a long-standing event that brings together road and airport pavement researchers, engineers, and governmental officials to promote pavement technological advancement worldwide. The event was organised by the University of Moratuwa (Transportation Engineering Division) and supported by the Highway Engineering Society of Sri Lanka and the International ICPT Steering Committee.
There were over 250 participants from different countries including China, India, Sri Lanka, Singapore, Malaysia, Japan, Taiwan, Thailand, Indonesia, Australia, New Zealand, USA, Iraq, Iran, Nigeria, Libya, South Africa and Netherlands.
On Day 1, the welcome addresses were delivered by Prof. Nalin Wickramarachchi (Dean of the Faculty of Engineering, University of Moratuwa), Prof. Wasantha Mampearachchi (Chair of the 12th ICPT 2021), Mr. R. W. Pemasiri (Secretary, Ministry of Highways of Sri Lanka) and Prof. Fwa Tien Fang (President of the Pavement Engineering Society (PES) and Chair of the ICPT International Steering Committee).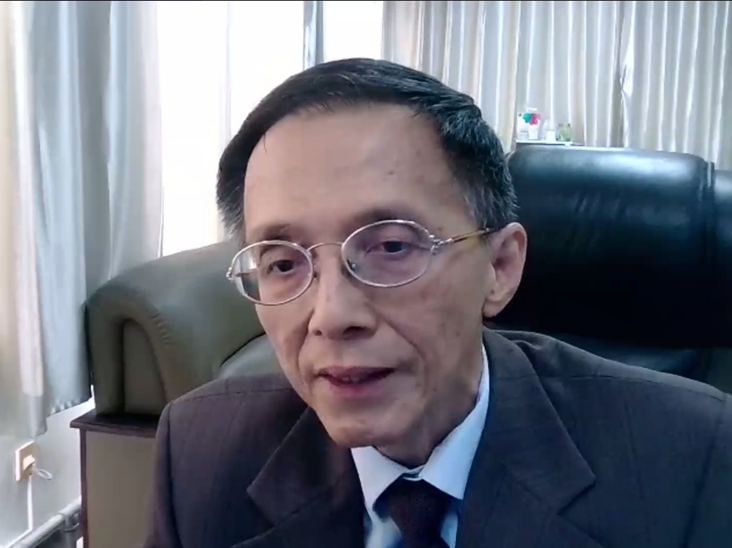 Welcome address by PES President, Prof. Fwa Tien Fang
There were two keynote lectures presented on the first day of the conference, namely,
"Automated 3D Pavement Condition Evaluation Using Machine Learning for Optimized Asset Management". By Prof. Yi-Chang James Tsai, Georgia Institute of Technology, USA.
"Highway Pavement Healable Materials and Material Rejuvenation". By Prof. Fengpeng Xiao, Tongji University, China.
On Day 2, the welcome addresses were delivered by Prof. Saman Bandara (Head of the Transportation Engineering Division, University of Moratuwa) and Prof. Chintha Jayasinghe (Head of Department of Civil Engineering, University of Moratuwa). This was followed by two keynote lectures, namely,
"Pavement Design – Past, Present and Future". By Prof. Animesh Das, Indian Institute of
Technology, Kanpur, India.
"Unbound Granular Pavements – Key Challenges and Use of Recycled Materials". By Mr Jothi Ramanujam, Deputy Chief Engineer (Pavement, Materials and Geotechnical), Queensland Transport and Main Roads Department, Australia.
The announcement of the next 13th ICPT 2023 was also presented by Prof. Zhang Jingxi from the Beijing University of Technology, China.
A total of 70 papers were presented at the 2-day conference. The topics include:
Advances in Pavement Materials
Airfield Pavement
Sustainable Pavement Materials
Pavement Friction
Modelling of Pavement Materials
Pavement Construction & Maintenance
Pavement Management Systems
Pavement Evaluation
Pavement Condition Monitoring & Evaluation
Pavement Design
Porous Pavement
Pavement Geotechnics
The Pavement Engineering Society, Singapore (PES) has participated in the event with a contingent of 12 council members, namely,
Prof. Fwa Tien Fang
Dr. Low Boon Hwee
Dr. Ong Ghim Ping Raymond
Dr. Tan Jun Yew
Dr. Lee Yang Pin Kelvin
Dr. Chan Chin Loong
Dr. Jia Lu
Dr. Vincent Guwe
Mr. Kwek Yeoh Seah
Mr. Tan Hua Soon
Mr. Teoh Sze Tean
Mr. Ong Di Qin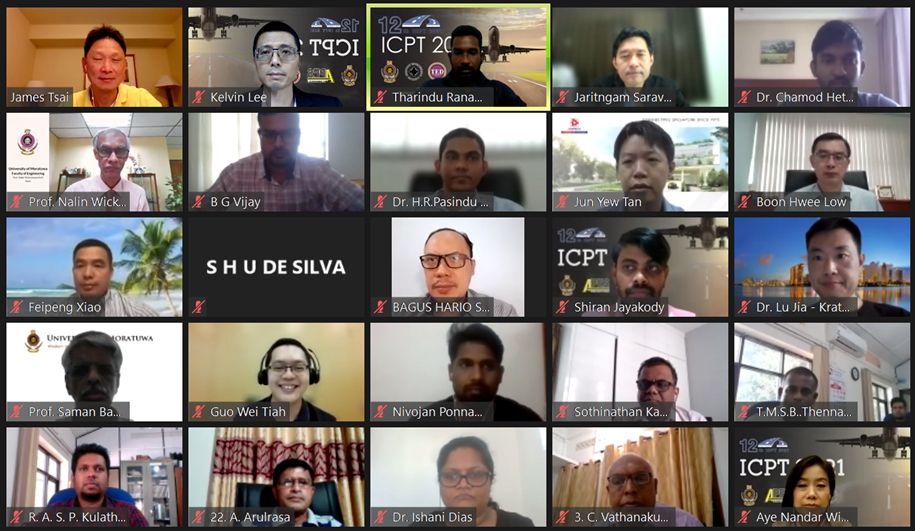 PES delegates and participants at the conference
The delegation actively participated in the conference through paper presentations and also served as chairman for some of the sessions.
The 12th ICPT 2021 was successfully organized. The next ICPT conference will be held in Beijing, China and we hope to meet again in 2023.