The 13th ICPT 2023 was held from 6 to 8 July 2023 in Beijing, China. The conference is a longstanding event that brings together road and airport pavement researchers, engineers, and governmental officials to promote pavement technological advancement worldwide. The event was organised by the Beijing University of Technology, International Committee of Pavement Technology and Pavement Engineering Society (Singapore). It was held at Grand Gongda Jianguo Hotel in Beijing.  
There were over 230 participants from 15 different countries and regions including China, Hong Kong, Taiwan, USA, France, Japan, Canada, Singapore, Malaysia, Thailand, Indonesia and Sweden.  
On Day 1, the welcome addresses were delivered by Prof. Fwa Tien Fang (President of the Pavement Engineering Society (PES) and Chair of the International Committee of Pavement Technology) and Prof. Zhang Jinxi (Conference Chair).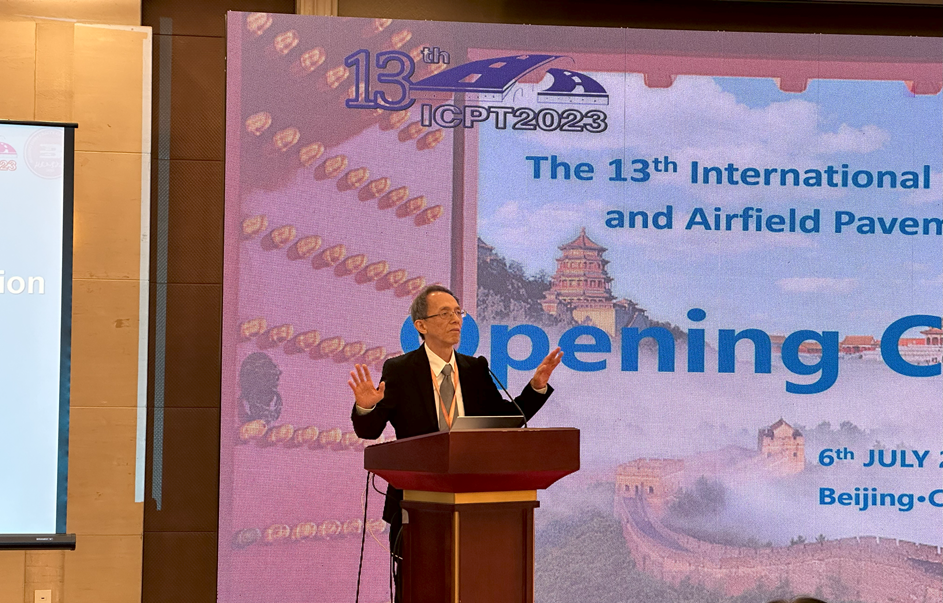 Welcome address by PES President, Prof. Fwa Tien Fang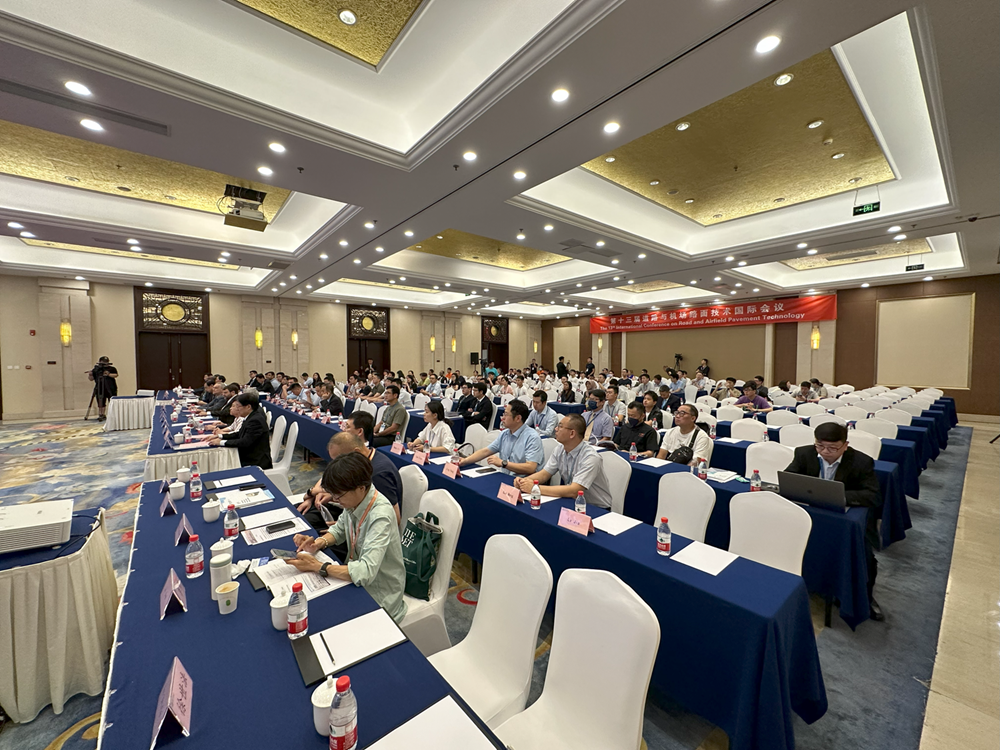 Participants at the ICPT 2023 conference
There were three keynote lectures presented on the first day of the conference, namely,
"New Generation of Design Theory and Methodology for Long-Life Asphalt Pavement" by Prof. Jianlong Zheng, Changsha University of Science and Technology, China.
"Mechanistic-Empirical Design of Jointed Concrete Pavements in US: From Westergaard to AASHTOWare Pavement ME 3.0" by Prof. Lev Khazananovich, University of Pittsburgh, USA.
"Assessment of Environmental Impact of Recycled Materials within Balanced Asphalt Mixture Design Framework" by Prof. Louay N. Muhammad, Louisiana State University, USA.
This was followed by two distinguish guest presentations, namely,  
"PASSFlex for Balanced Mix Design Plus of Asphalt Mixtures and Performance-Related Specifications of Asphalt Pavements" by Prof. Y. Richard Kim, North Carolina State University, USA.
"Key Aspects in Sustainable Asphalt Pavement Research" by Prof. Manfred N. Partl, KTH Royal Institute of Technology, Sweden.
A total of 110 papers were presented at the 3-day conference. There were 10 sessions which include:
Pavement design, evaluation and performance
Green pavement materials
Pavement construction and transportation safety
Pavement and environment
Pavement preservation, maintenance and rehabilitation
Modification of bituminous materials
Pavement materials characterization
Mechanism and modelling of pavement materials
Smart pavement technologies
Special session on Workshop of RILEM TC 279-WMR: Valorisation of waste and secondary material for roads.
The PES has participated in the event with a contingent of 11 council members, namely,
Fwa Tien Fang
Low Boon Hwee
Ong Ghim Ping Raymond
Tan Jun Yew
Lee Yang Pin Kelvin
Jia Lu
Yoong Chin Chong
Lu Jin Ping
Kwek Yeow Seah
Tan Hua Soon
Tan Kim Soon Daniel
There were also other Singapore delegates from private companies and government agencies including the Land Transport Authority and Changi Airport Group. The PES and Singapore delegates actively participated in the conference through paper presentations.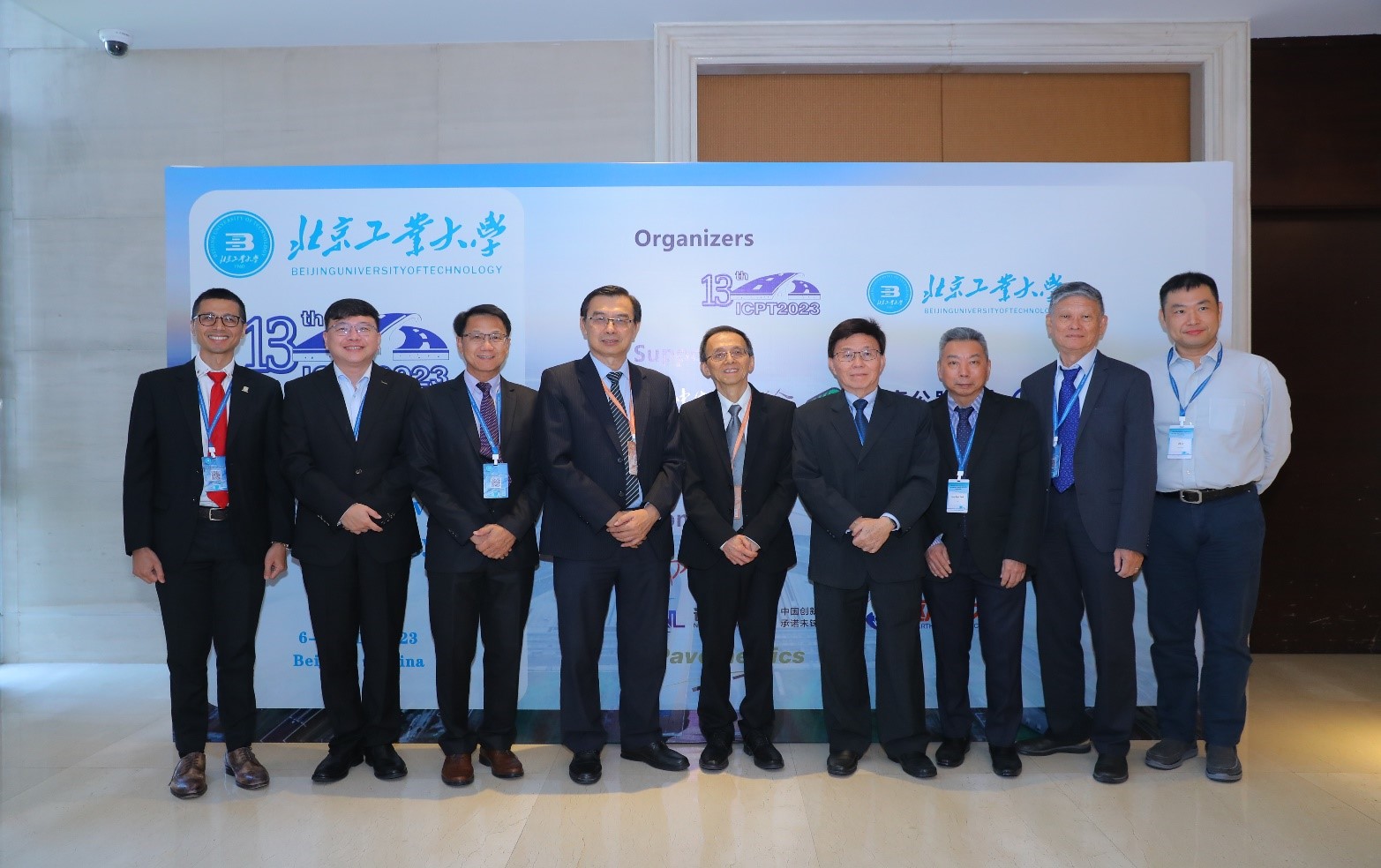 PES delegates at the conference
Apart from the technical sessions, the PES delegates also attended a technical tour on 7 July 2023. They visited the Beijing East Sixth Ring Road reconstruction project site as well as the Shougang Park. The Beijing East Sixth Ring Road reconstruction project covers a total length of 16.3km and includes a 7.4km length of shield tunnel which is up to 75m deep. The shield tunnel has a diameter of about 16m and is the longest and deepest in Beijing. The Shougang Park was built on the site of the former Capital Iron and Steel Plant and was used for the skiing and snowboarding competition during the Beijing 2022 Winter Olympics.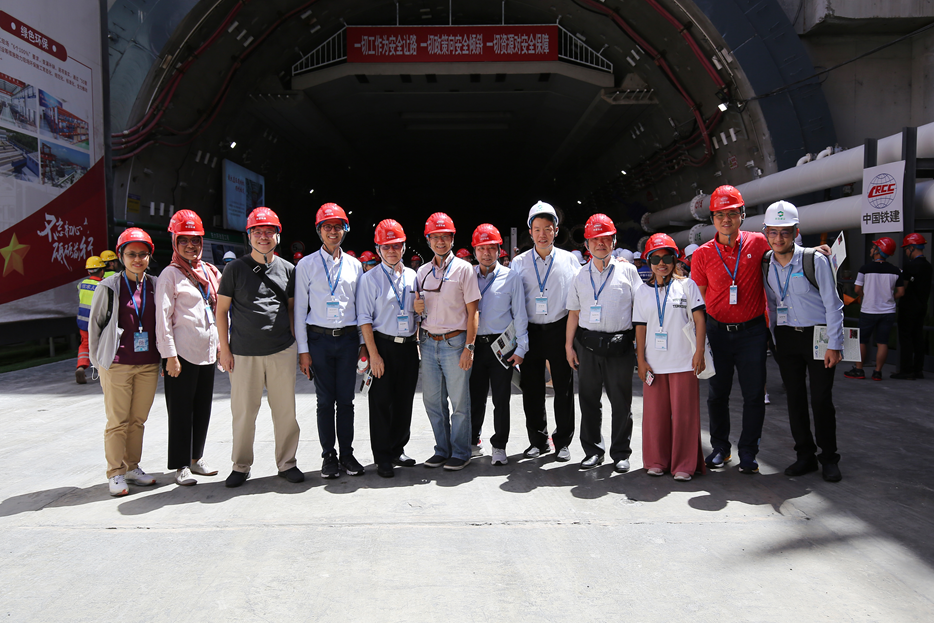 PES and Singapore delegates at the Beijing East Sixth Ring Road reconstruction project site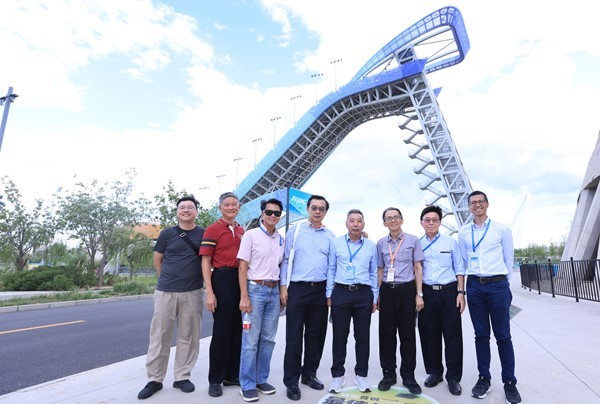 PES delegates at the Shougang Park
On the last day and closing ceremony of the conference, the announcement of the next 14th ICPT 2025 was presented by Prof. Jitsangiam Peerapong from Chiang Mai University, Thailand.  
The 13th ICPT 2023 was successfully organized and we hope to meet again in 2025.