The SPT 2020 was held online on 19 Nov 2020. The symposium was jointly organised by the Pavement Engineering Society (Singapore) and the Center for Transportation Research of the National University of Singapore, and supported by the Asian Pavement Engineering Society.
It was the first time the annual symposium was held online due to the COVID-19 pandemic. The symposium was attended by more than 500 participants from both private and public sectors which included the Land Transport Authority, Changi Airport Group and the Defence Science and Technology Agency. There were also overseas delegates from 24 countries which included Malaysia, Indonesia, Vietnam, Thailand, China, Japan, Taiwan, India, Sri Lanka, Iraq, Nigeria, Somalia, United Kingdom, Italy, Greece, Germany, USA etc.
The symposium comprised two sessions with a total of 8 speakers:
Session 1 – Advancements in Asphalt Technology
Moderated by Dr Jia Lu, Kraton Polymers Singapore Pte Ltd, Singapore
Mr. Sethi Manpreet, Kraton Polymers Singapore Pte Ltd, Singapore – Latest
Development in SBS-based Polymer Modified Binder Technology: Highly Modified
Asphalt (HIMA).
Dr. Vincent Guwe, Shell Eastern Petroleum (Singapore) Pte Ltd, Singapore – Bitumen
Innovation for Cleaner Road Paving: A Singapore Example.
Mr. Luo Lei, Chang'an University, China – Molecular Dynamics Simulation of Oxidative
Aging Effects on Asphalt Binder Properties.
Associate Professor Leng Zhen, Hong Kong Polytechnic University, Hong Kong –
Upcycling Waste Plastic into Functionalized Additive for Reclaimed Asphalt Pavement
Mixtures.
Session 2 – New Technologies for Pavement Engineering
Moderated by Dr Kelvin Lee Yang Pin, Samwoh Innovation Centre, Singapore
Assistant Professor Ong Ghim Ping Raymond, National University of Singapore – Use
of Waste Plastics in Roads and Circular Economy: Challenges and Opportunities for
Urban Cities.
Mr. Michael Blake, KM International, USA – Introduction to Infrared Asphalt Repair.
Assistant Professor Su Yu-Min, National Kaohsiung University of Science and
Technology, Taiwan – Preliminary Laboratory Study in Friction of Thermoplastic
Pavement Marking Materials.
Mr. Ranjeet Deshmukh, Roadbounce, India – Use of Smartphone Technology for IRI
Assessment.
The SPT 2020 was successfully organized and we hope to meet again next year at SPT 2021.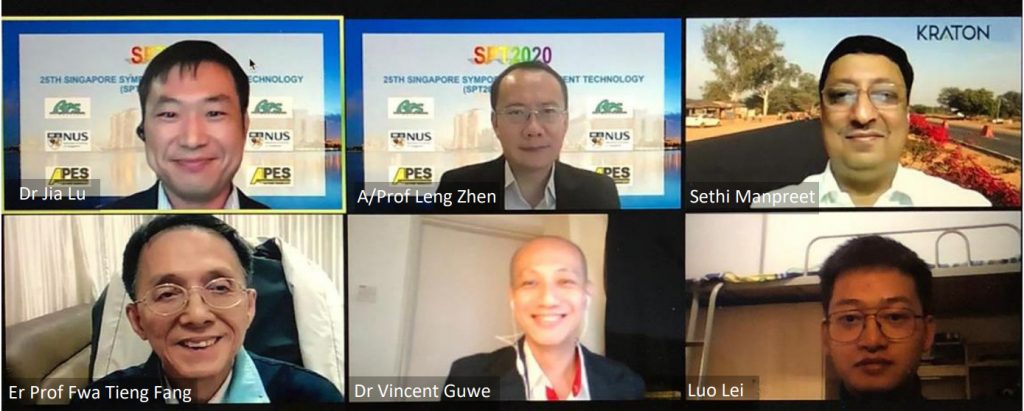 Photos of moderator, presenters and Symposium Chairman (Prof. Fwa) in Session 1.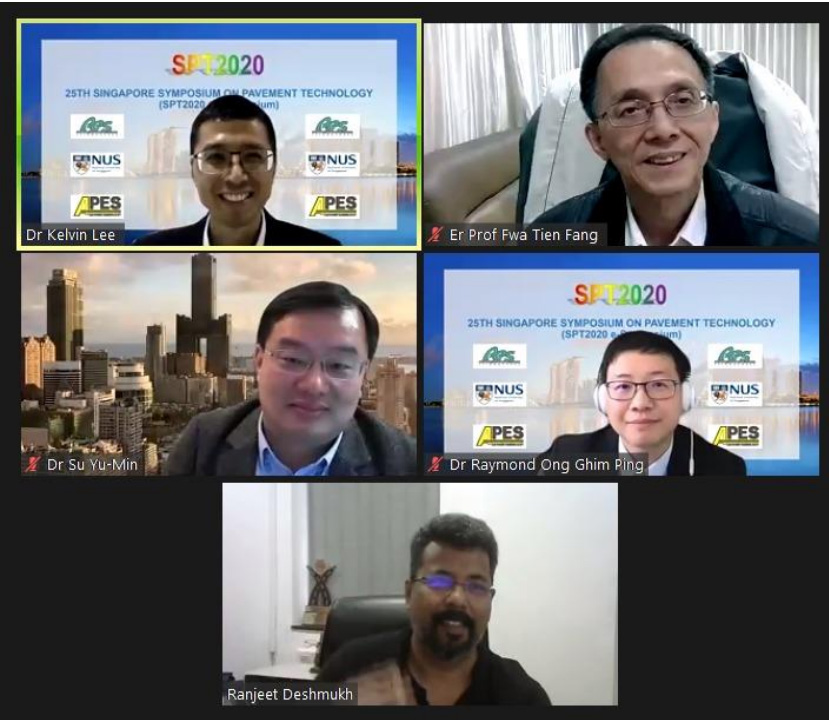 Photos of moderator, presenters and Symposium Chairman (Prof. Fwa) in Session 2.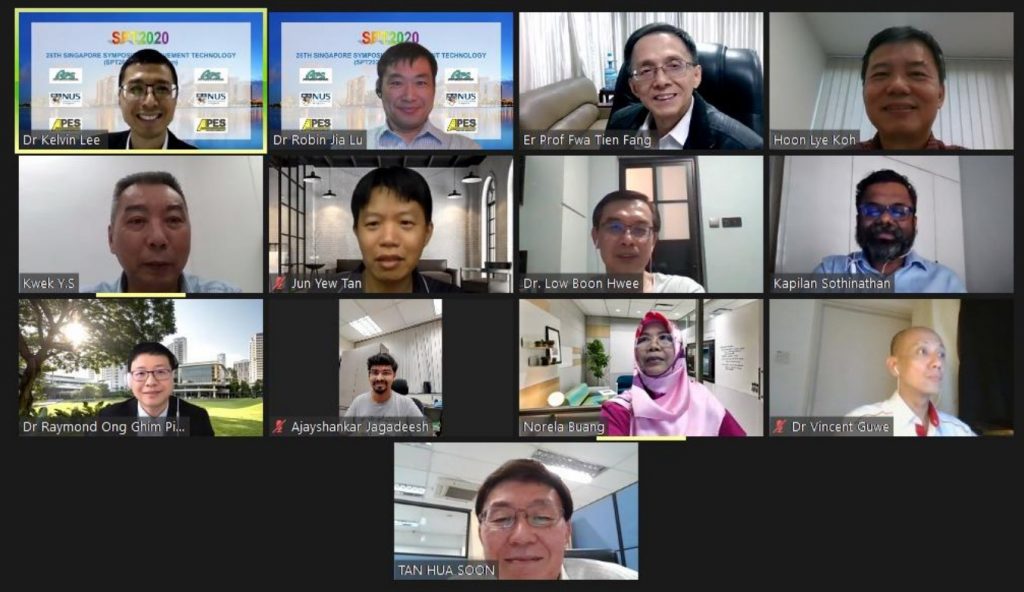 Photos of the Organising Committee of the SPT 2020