Introduction
Prior to the commencement of the 13th International Conference on Road & Airfield Pavement Technology at Beijing, PES organized its first overseas Technical visit to XiongAn New Area, Hebei Province (south of Beijiing) and the Rongwu Expressway new line construction linking Beijing and Xiongan.
There were altogether 16 participants from Singapore including some PES Council members and PES members, contractors and LTA staff.
Xiongan New Area
On 5th July 2023 morning, we travelled to Xiongan New Area which has an area of about 1770 sq km, about 2.5 times the size of Singapore.  The development is part of China government's plan to relieve the capital of non-essential functions and reduce its populations in Beijing, while also creating an innovation hub for the surrounding regions. The master plan was approved in 2018 with many highrise buildings for banking sector, insurance sector, industries sector, education sector, residential sector and recreation sector, and others.  The city is dubbed as "City of the Future" with innovation hub, electric buses and driverless cars undergoing trial.  We visited the impressive Xiongan New Area Exhibition Gallery show casing the master plan with elaborate models.  Unfortunately, we were not allowed to take any pictures.  On the whole, the visit was an eye-opening experience seeing the speed of development and the high-quality development that involves innovation, a high level of digitization, and resident-friendly environment.  For further reference and information of this "City of the Future", you may wish to visit this website:
https://www.hitachi.com/rev/archive/2021/r2021_01/gir/index.html
Rongwu Expressway (New Line)
In the afternoon, we travelled on the newly completed Rongwu Expressway which traversed across the Xiongan city and linking several highways from Beijing.  It stretches from RongLangfang to Baoding with a total length of about 74km.
The contractor, Hebei Transportation Investment Group Company Limited hosted us together with the support from the Hebei Provincial Department of Transportation. The three key mottos for the project were:
Smart Highway
Smart Building Construction
Smart Highway Monitoring
We had the opportunity to visit the completed expressway with elaborate on-site exhibits and explanation on the construction process. One of the key innovation was the use of CRMB with 30%-50% CRMB content in the binders for the whole Rongwu Expressway (new line) project to achieve what it is called "perpetual asphalt pavement".  It does not need any maintenance during the first 20 years of the pavement life and the design life of the asphalt pavement can be extended up to 40 years!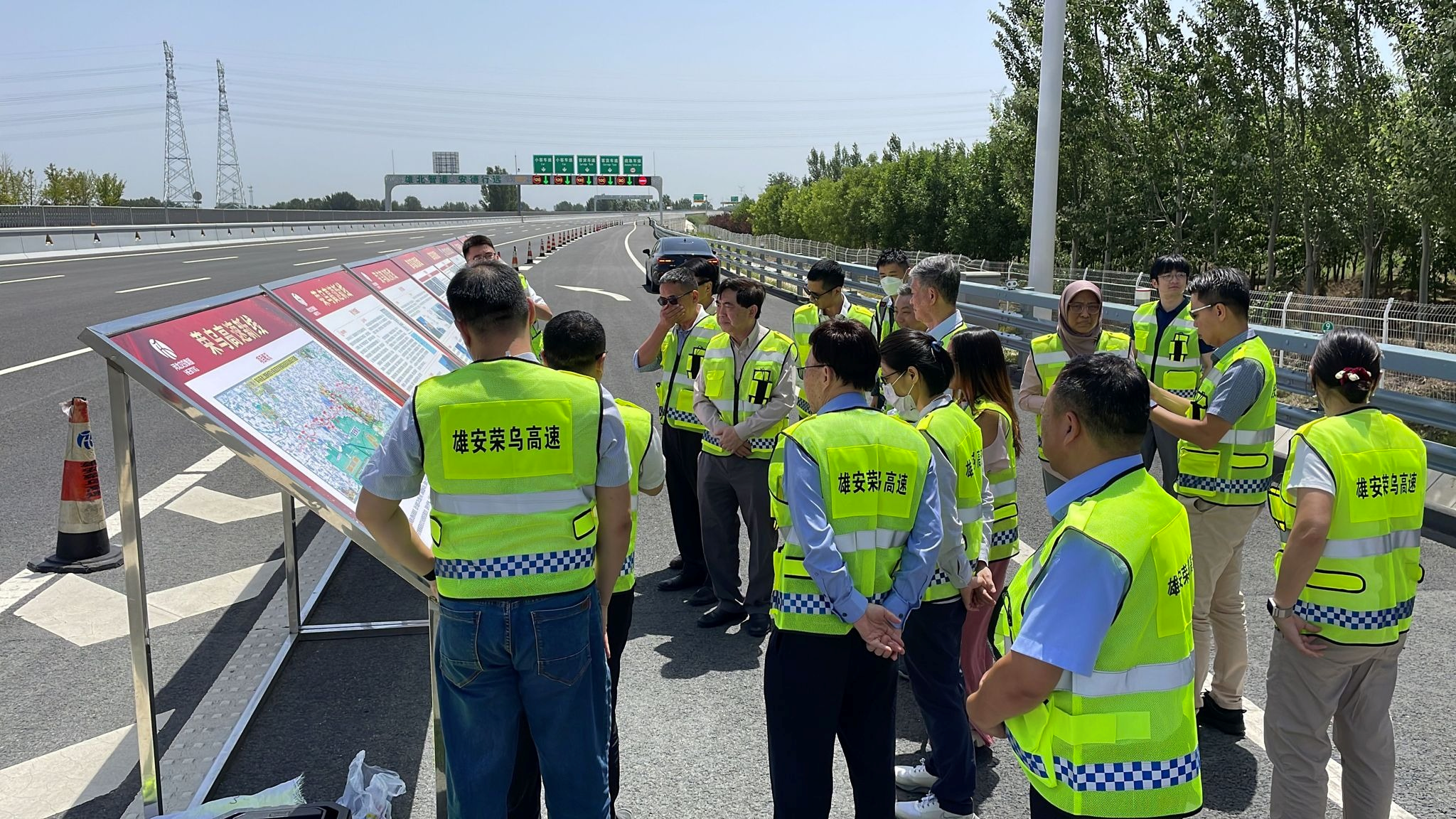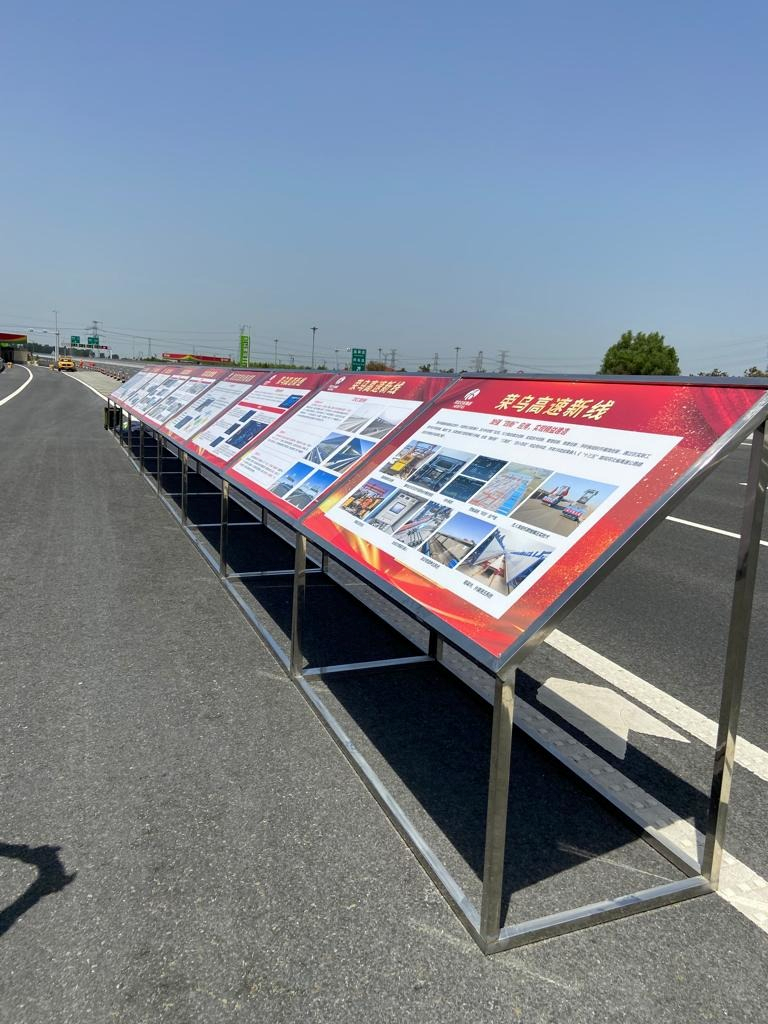 After the on-site visit, we were brought to the production yard where the concrete production, asphalt production and concrete testing centre were housed. The entire concrete and asphalt mix production operation were fully covered and many automation elements incorporated with real-time monitoring.  The air quality and noise level were also continuously monitored.  The precast yard was fully automated from assembly of mould, bar bending, prestressing to demoulding.  It works in an automated production line concept delivering 145 beams per day to the site!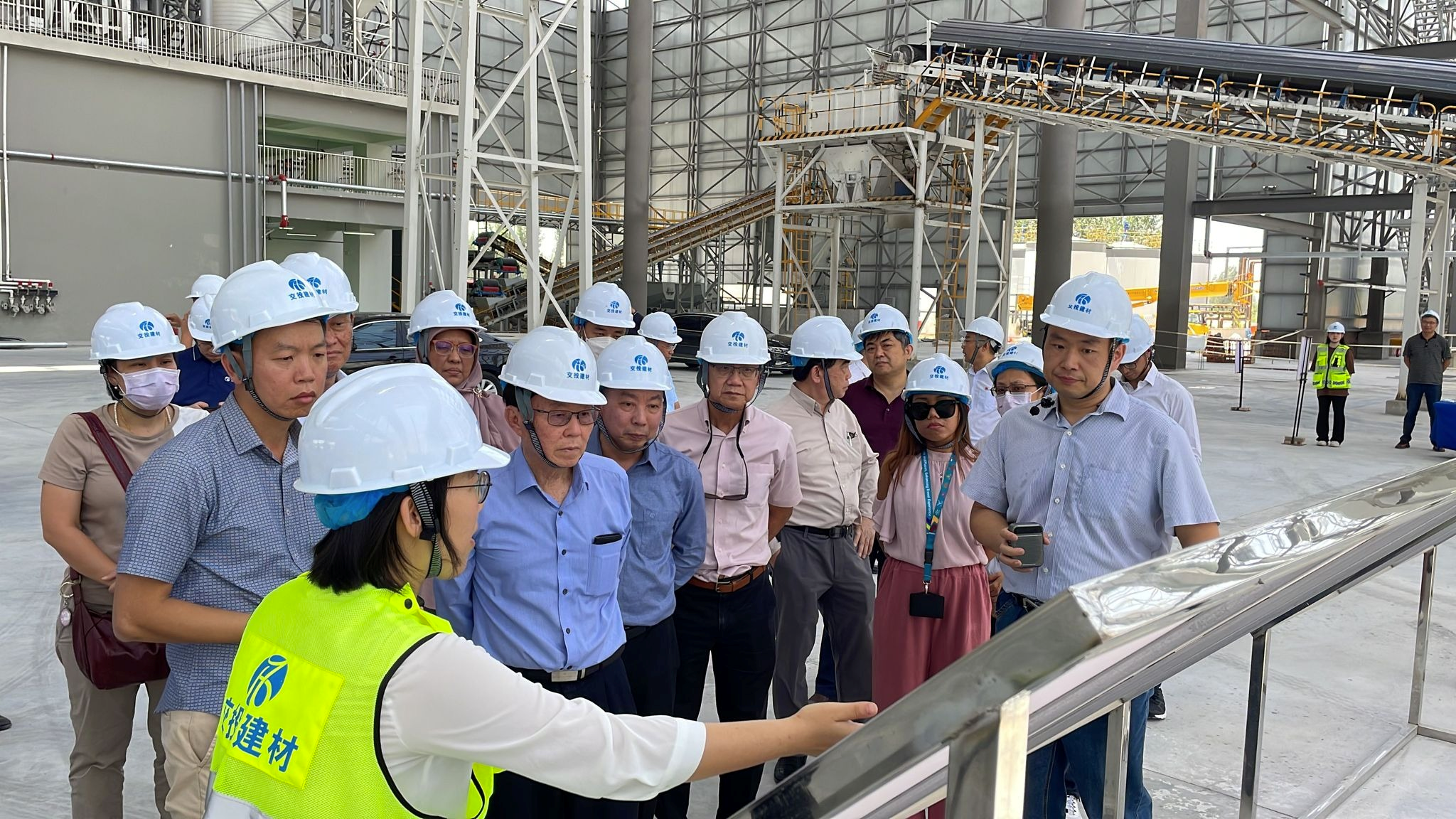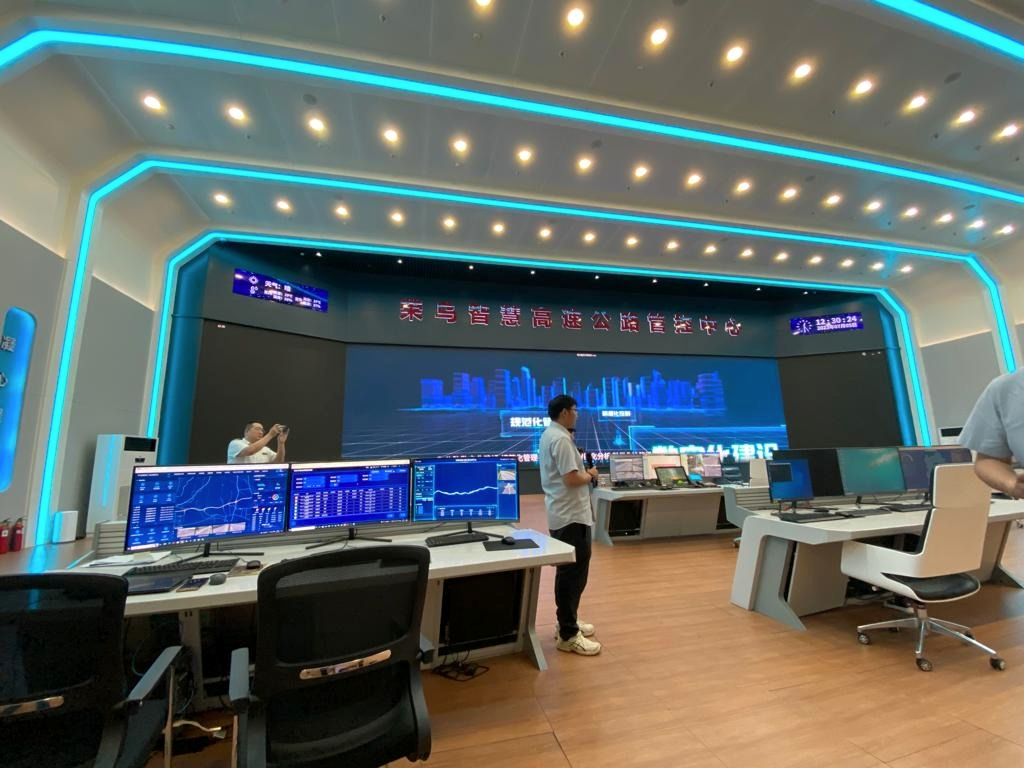 After a late lunch, we had a very fruitful discussion sessions with 2 of our PES Council members sharing the Singapore practices on pavement and 4 speakers from the Hebei Provincial Department of Transportation; Hebei Transportation Investment Group Company Limited;  Hebei Transportation Investment Resources Development & Utilization Company Limited; Hebei Provincial Communication Planning Design and Research Institute Company Limited sharing their key innovative pavement technologies such as perpetual pavements using rubber asphalt containing up to 50% crumb rubber, glass fiber tack coat, artificial intelligence for pavement distress surveys as well as smart construction technologies such as autonomous roller compactor and pavers, automated concrete curing and testing facilities etc.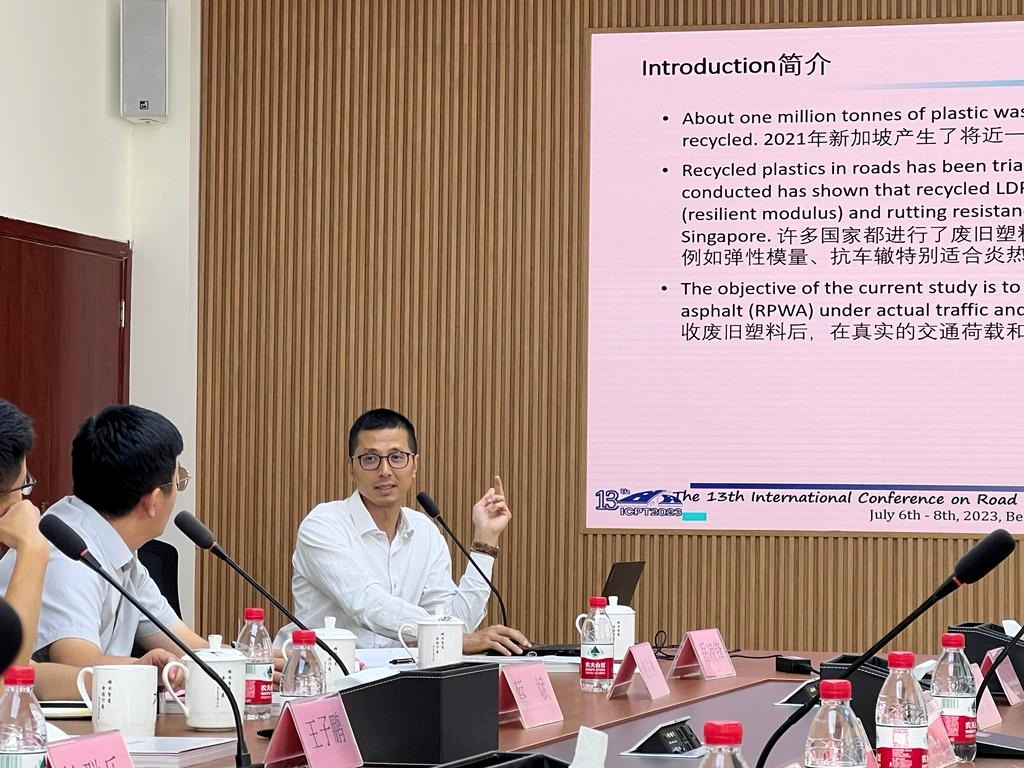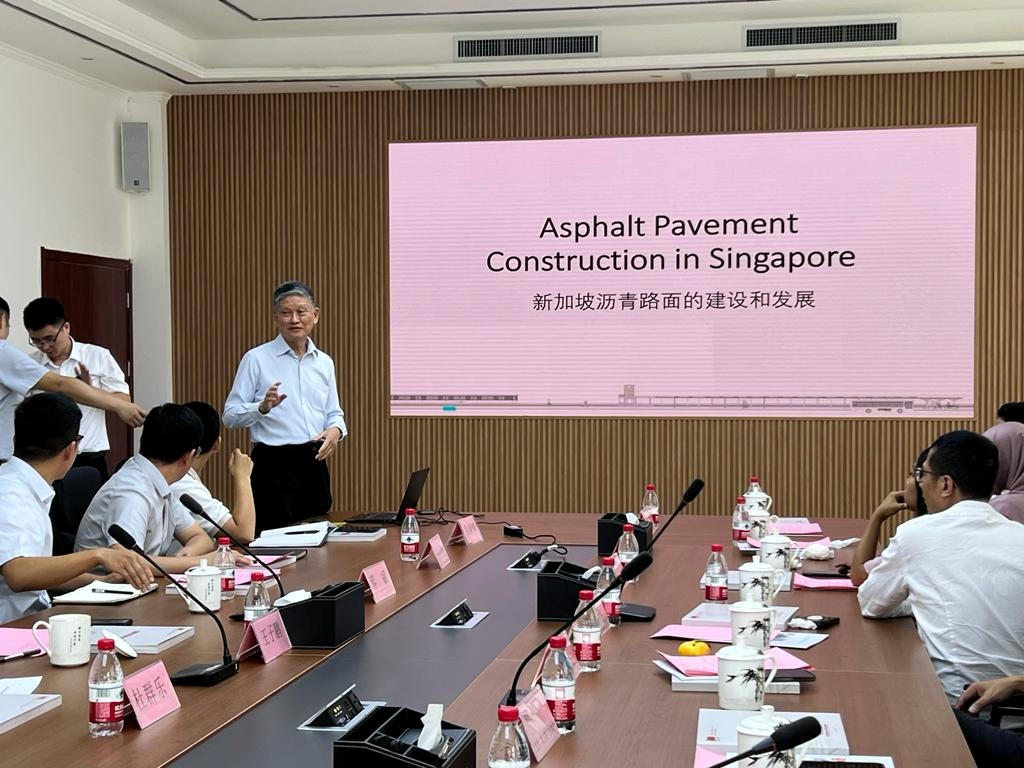 The presentations sparked long discussion, exchange of ideas and sharing of knowledge that it had to be called to an end due to time constraint, which ended at 5.30pm.
The Pavement Engineering Society (Singapore) thanked the host for a very well organizing and fruitful visit.